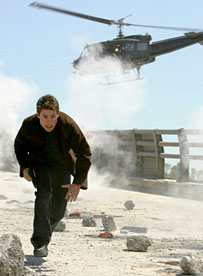 Or: See Tom Run
Tom Cruise says that if you're going to do a movie like this (meaning, if
he's
going to do a movie that is a shoe-in for the green splat at rottentomatoes.com), you may as well do as many of your own stunts as possible. He wanted to be sure we all knew he did
many
stunts.
I'm here to verify that Tom Cruise in fact did all his own running. That's right - he ran past cars, in front of busses and trucks, from the insides of ugly warehouses to waiting helicopters, through the halls of the Vatican museum, down a charming old world neighborhood of Shanghai and more! Not once did I spot a stunt man running for Tom.
If you like to see Tom run, this is the movie for you.
If you like action, read the
Da Vinci Code
.
Now, for those hoping to see some hot love action, a warning. Each exchange of lines between Tom and what's-her-name takes about ten minutes with five minutes of silence as characters use method acting to well-up with the requisite tears. They pause so long, you can take care of business in the middle of lines! Like this:
Tom to his wife
: I need you to.....
Exit theater, read a chapter of the Da Vinci Code, pee, get popcorn...
...to trust me.
Sincere wife who is a sexy nurse (huh?) named Julia
: I...
Read another chapter, refill popcorn, text message your homies...
...do.
Oh.God.The.Pathos.
Where is Pierce Brosnan when you need him? At least he knew that his Bond lines were the height of cheese--so you laugh at the audacity of the gorgeous man to utter them anyway as though they were ridiculous and serious at once. Tom mistook the MI:3 lines for Shakespeare. Poor dear. Perhaps Rome confused him. (Did you know we were in Rome when he was filming?)
One wonderful benefit to an otherwise pointless flick: Philip Seymour Hoffman gets his!! For Heath Ledger fans, I have to admit, the moment of his demise was delicious.
---
Concession: There is a lot of action, obviously. But there were so many missing action scenes that I left wishing for moments barely alluded to yet critical "to the mission" which is why it felt so, I don't know, vacant of real, heart-pounding action. Blowing things up does not make suspense.
Gadgets were sufficiently cool, however. :)