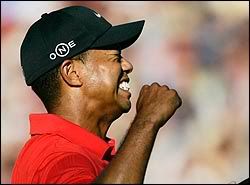 Sorry, can't resist. I have to post while he's playing a perfect round of golf. Four ahead of the competition now.
Did you see the 8th hole putt? Come on. He's inhuman.
Detroying the field. :) Makes me happy.
UPDATE: And he wins. :)
12 for 12 wins in the majors when he is tied for or has the outright lead on the last day.
Only
four
three bogeys for the whole week.
18 under par and 5 under second place.
12th major win (on the road to demolishing Jack Nicklaus' 18 major wins).
And the most loved athlete of our time. It's so nice to have an athletic hero we can admire without shame.
UPDATE:
My favorite sports writer pays tribute to Tiger
.