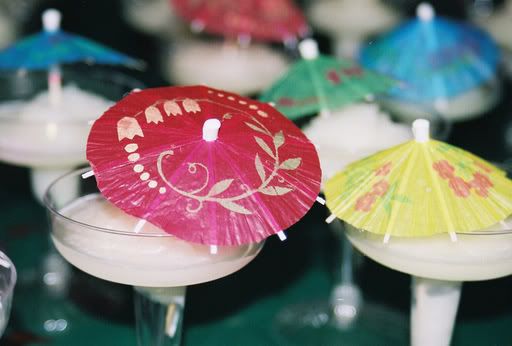 Frozen lemonade from Jacob's birthday party where conservative Christian homeschooled kids were exposed to imaginary adult beverages and poker... with devastating results.
Cheap teenage intoxication recipe:
1 can of frozen lemonade concentrate
1 pitcher full of ice
Whip, frappe, puree on low then switch to atom-splitting speed in a blender until motor smokes.
Pour into clearance rack champagne glasses post New Year's Eve.
Gently
open umbrellas so that they don't "freak out" and snap.
Toast the birthday boy.
Watch kids walk into walls, slur their words, tickle each other (touching, touching, touching) and giggle so hard frozen lemonade squirts out their noses... all while saying (each one had to say this at least once): "Man what did you put in this stuff? Tequila? I'm so drunk."
Hours of entertainment without an ounce of Southern Comfort! Such a deal.